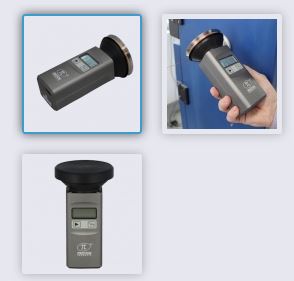 InteliTHERM HTG400 Proton Vietnam
Hãng sản xuất: Proton
Liên hệ tư vấn
InteliTHERM HTG400 Proton Vietnam
Features
High accuracy (±2°c + 0.2%*).
Instant temperature reading.
Unaffected by material types or emissivity.
Fully portable handheld unit.
Long life rechargeable li-ion battery.
User-friendly simple operation.
The InteliTHERMTM HTG400 is a compact handheld wire temperature measuring device that is suitable for use on all bare wire types. It has a special bimetallic wheel construction and integrated electronics. This enables high precision (+/- 2°C + 0.2%*) temperature measurement up to 400°C (752°F). The InteliTHERMTM HTG400 is extremely easy to use. Switching between °C and °F is achieved with a single push of the °C/°F units button. The device is fully portable with an integrated rechargeable battery. Temperature is displayed on an easy to read built in LCD display.
| Specification | InteliTHERMTM HTG400 |
| --- | --- |
| Temperature measurement range | Ambient temperature to +400°C (752F) |
| Accuracy | ±2°C + 0.2%* |
| Bare wire diameter range | 0.3mm - 10mm (0.0118 Inch - 0.393 Inch) |
| Max line speed | 2000m/min (Higher speeds available on request) |
| Display | LCD with LED back light |
| Battery type | 18650 Li-ion |
| Battery capacity | 3000mAh (>1000 measurements) |
| Charging interface | USB-C |
| Charging time from empty | ~8 hours |
| Charging voltage | 4.7V~5.2V |
| Charging current | ≥ 500mA |
| Ambient operating temperature | +5 ~ +40°C |
| Storage temperature | 0 ~ +45°C |