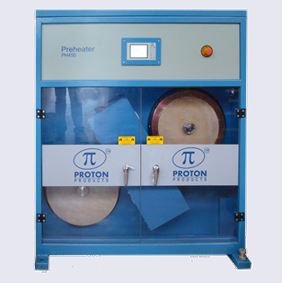 ProTHERMICTM PH450 PROTON Vietnam
Hãng sản xuất: Proton
Liên hệ tư vấn
ProTHERMICTM PH450 Series Wire Preheater, ProTHERMICTM PH450 PROTON , ProTHERMICTM PH450 PROTON Vietnam
PROTON , PROTON Vietnam , PROTON Viet nam
Features
For induction preheating of solid and stranded copper, copper-clad and aluminium wires up to 200°C (300°C for High Temperature (-HT) models) prior to insulation extrusion.
Improve insulation-to-wire adhesion and stripping characteristics, especially at high line speeds.
Highest power to wire transfer rate EEE 96% (Electrical Energy Efficiency) ensuring minimal losses and maximum use of available power.
Uses parabolic control algorithm to ensure high degree of heating accuracy for all line speeds and wire sizes.
Integrated "spectral radiation" InteliTHERM temperature measurement (optional) available for higher precision of wire temperature measurement and control.
Preheats solid wires up to 4.5mm in diameter and stranded wires up to 5.64mm in diameter.
Housed in rugged enclosures to survive harsh industrial environments.
Controlled using a user-friendly, menu-based LCD interface display unit.
Available with industry-standard communications interfaces fitted either as standard or as an option.
Available in different power output models suitable for all budgets and line speeds.
Available in 400 and 480 VAC 3-phase mains supply voltage models.
The ProTHERMIC PH Series are a comprehensive range of High Frequency induction Preheaters featuring the latest advanced High Frequency solid state technology. Wire preheating is an essential operation to achieve elimination of wire moisture, improve stripping characteristics, and avoid pin hole and bare patch faults.
The Proton InteliTHERMTM Spectral Radiation non contact wire Temperature Gauge is now available for use with new or existing preheaters. Proton Preheaters have a high degree of accuracy during preheating, however for some applications when temperature stability and precision are critical the use of the InteliTHERMTM SRTG device can further enhance temperature stability. The InteliTHERMTM SRTG series connects directly to the preheater control module providing fast and precise temperature feedback and control. This makes operating the preheater as simple as just setting the temperature and pressing go.
Technology
The shorting pulley rim is manufactured from a special copper alloy that has high electrical conductivity and good wear resistance.
The insulating pulley is manufactured from resin bonded fabric which has good wear resistance and low thermal conductivity to minimise wire-to-pulley heat loss.
The pulleys are mounted on low friction, double row ball bearings to minimise the drag force (tension increase) on the wire as it passes through the preheater. Both pulleys are precision machined to ensure that uniform tension is applied to the wire, thus reducing SRL problems in data and telecommunications cable applications.
The preheater is powered from a 3-phase mains input, which is converted to a high-frequency supply by a specially designed inverter, the output of which is automatically adjusted to deliver the necessary power to maintain the required "Preset Temperature" regardless of wire size or production speed.
The preheater is fully protected against mains supply phase loss or brownouts.
Specification

Minimum

Typical

Maximum

Units

Pulley root diameter
450
mm
Solid wire diameter
1
4.5
mm
Stranded wire diameter
5.64
mm
Stranded wire cross-sectional area
25
mm2
Wire preheat temperature
200
°C
Continuous wire tension
2005
N
Wire tension increase (at a line speed of 1500m/min)
1
N
Power supply frequency
47
65
Hz
Wire line height
980
1000
1020
mm
Weight
500
kg
Operating temperature
5
45
°C
Ingress protection (wire entry/exit areas and pulley compartment only)
IP53
Wire direction
Left-to-right or right-to-left (see diagram below)
Wire material
Copper / Copper-clad / Aluminium / Special
| Model | PH450-20-400 | PH450-20-480 | PH450-25-400 |
| --- | --- | --- | --- |
| Maximum output power / kW | 20 | 20 | 25 |
| 3-phase power supply voltage / VAC (rms line-to-line) | 400 | 480 | 400 |
Standard Interfaces
4x Logic inputs
Function
Solenoid door lock (if fitted)
Emergency stop
Start preheating
Stop preheating
Maximum input voltage
+24V
4x Isolated relay outputs
Function
Fault
State
Auxiliary
Emergency stop
Maximum contact rating
50VDC / 30VAC / 0.5A
Temperature set input
0 to +10V temperature control input, user scalable
Communications interfaces
RS-232*
*An optional RS-232-to-USB converter cable is available for connection to USB equipped computers.
Options
(must be specified for installation at time of manufacture; cannot be retrofitted)
| | |
| --- | --- |
| Wire loop current output | 0 to +10 V output proportional to 0 to 2000A(rms) wire loop current |
| Communications interfaces | PROFIBUS |
| Solendoid door lock | Locks the access door(s) shut until motion of the pulleys has come to a complete stop. |
| Height plinth | Raises the nominal line height to 43" (1092mm). |
| Twin doors | For use in confined factory spaces where the standard single door is too large (not applicable to PH160, PH450 or PH600) |