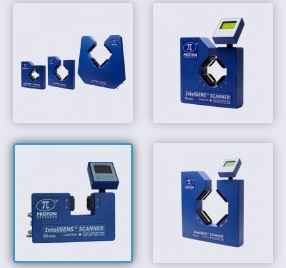 InteliSENS DG Series Diameter Gauge PROTON Vietnam
Hãng sản xuất: Proton
Liên hệ tư vấn
InteliSENS DG Series Diameter Gauge PROTON Vietnam, InteliSENS DG Series Diameter GaugePROTON , InteliSENS DG Series Diameter Gauge PROTON Viet nam, InteliSENS DG Series Diameter Gauge Proton Vietnam
PROTON , PROTON Vietnam , PROTON Viet nam
Features
Non-contact, scanning laser beam diameter measurement.
1 or 2 axis models available in 30, 60 or 130mm maximum diameters.
600 scans per second per axis.
Measures wire, cable and cylindrical object diameters (both opaque and transparent such as glass rod) and envelope diameter for braided or helically-stranded cables.
Single Scan Flaw Detection (SSFD) for detection of insulation lump and neck flaws.
Compact and robust industrial design for use in harsh factory environments (IP65 / NEMA4 protection).
Integrates seamlessly via CANbus with Proton Products NEXiSTM CS Series Controllers for diameter driven control of the insulation extrusion process.
Proton Products InteliSENS® DG Series laser scanning diameter gauges provide accurate and repeatable measurements for products manufactured within critical tolerance limits.
Robust industrial design and use of advanced digital signal processing electronics make InteliSENS® DG Series gauges extremely reliable and easy to integrate into production control systems.
Each InteliSENS® DG gauge head features RS232 and CANbus as standard; PROFIBUS, Ethernet/IP or DeviceNET industrial communications interfaces may also be provided as an option integrated within the DG gauge.
Analogue or relay contact outputs may also be provided as an option integrated within the DG gauge or as standard on NEXiS® CS Series Controllers connected to the DG gauge (please click here to see the NEXiS® CS Series of Controllers). The NEXiS® CS series Controllers provide cost effective and accurate diameter control for manufacturers of wire, cable, tubing, piping and many other continuously extruded materials.
Operating Principle
Proton Products InteliSENS® DG series diameter gauges rapidly scan a laser beam across the object under measurement. The laser beam is focused by a receiving lens onto a photodiode and the electrical signal digitally processed by a Proton-designed FPGA processor. The time duration for which the object obscures the laser beam is directly proportional to the object diameter.
Specification

Minimum

Typical

Maximum

Units

Measurement rate per axis
600
scan/s
Operating temperature
5
45
°C
41
113
°F
Relative humidity (at 38°C / 105°F)
90
%
Environmental protection
IP65
-
NEMA4
-
Power supply
15
24
25
VDC
Power consumption
24
W
Measurement units (end-user configurable)
mm
inch
Standard communications
CANbus
RS-232
Optional in-gauge interfaces (factory-installed, choice of one)
PROFIBUS
Ethernet/IP
DeviceNET
Analogue outputs
Relay contact outputs
Model

DG2006

DG1030

DG2030

DG1060

DG2060

DG1130

DG2130

Units

Axes
2
1
2
1
2
1
2
-
Gate size
30
60
130
mm
1.18
2.36
5.12
inch
Minimum diameter
0.1
0.2
0.5
mm
0.004
0.004
0.02
inch
Maximum diameter
6.5
27
57
130
mm
0.256
1.06
2.24
5.12
inch
Resolution
0.1
1
1
1
µm
Accuracy
±(1µm + 0.008% of object diameter)
±(1.5µm + 0.008% of object diameter)
±(10µm + 0.008% of object diameter)
-
Weight
7.5
5
7.5
8
14
10
20
kg
16.5
11
16.5
17.6
31
22
44
lb
Length
260
290
260
425
360
504
674
mm
10.24
11.43
10.24
16.75
14.17
19.68
26.54
inch
Width
66
66
66
68
68
68
68
mm
2.6
2.6
2.6
2.68
2.68
2.68
2.68
inch
Height
270
170
270
212
402
230
654
mm
10.63
6.7
10.63
8.35
15.83
9.06
25.75
inch