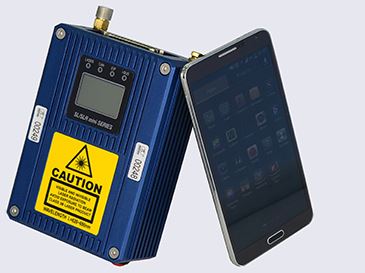 InteliSENS SL mini Series PROTON Vietnam
Hãng sản xuất: Proton
Liên hệ tư vấn
InteliSENS SL MINI PROTON Vietnam, InteliSENS SL MINIPROTON , InteliSENS SL MINIPROTON Viet nam, InteliSENS® SL MINIPROTON Vietnam
PROTON , PROTON Vietnam , PROTON Viet nam
Features
Non-contact, high-speed, solid-state laser speed and length measurement with no slippage, drift, mechanical wear or maintenance compared with contact wheel / roller systems.
Wire optomized SL mini-W series version available for wire and cable applications
Unidirectional speed and length measurement.
Ultra-compact design with a footprint comparable to a smartphone.
Optimized for sheet material and converting applications.
UKAS-traceable calibration; accuracy better than 0.05% and repeatability better than 0.02%.
Rugged industrial design for use in factory environments.
Available fitted with industry-standard communcations interfaces for easy integration with PLCs and production line equipment.
Excellent value with low cost of ownership.
Specification

Minimum

Typical

Maximum

Units

Accuracy*
0.05
%
Repeatability
0.02
%
Acceleration
500
m/s2
Internal measurement rate
200
kHz
Measurement output interval
20
µs
Laser spot diameter
3
mm
Operating temperature
5
40
°C
41
104
°F
Ingress protection
IP67
Weight
1.1
kg
2.4
lb
Length
142
mm
5.59
inch
Width
104
mm
4.09
inch
Height
52
mm
2.05
inch
Power supply
15
24
25
VDC
Power consumption
8
W
*only valid if the measured object is positioned within the central 20% of the depth-of-field.
Measurement units
(end-user configurable)
Speed
metres/minute
feet/minute
Length
metres
feet
yards
Laser safety control inputs
Laser
External closed contact to ground enables laser diode.
Shutter
External closed contact to ground opens laser shutter.
Shutter status output
Electrical
N-channel MOSFET pull-down (for connection to user-supplied opto-isolated relay).
Maximum voltage: 30VDC
Maximum current: 100mA
Function
Pulled to ground when laser shutter is open.
3×Logic inputs
(end-user configurable)
Electrical
Maximum input voltage: 24VDC
Function
Length reset
Display hold
Length hold
Speed hold
Direction
Pause
2×Logic outputs
(end-user configurable)
Electrical
N-channel MOSFET pull-down (for connection to user-supplied opto-isolated relay).
Maximum voltage: 30VDC
Maximum current: 100mA
Function
Gauge OK
Laser at temp
Laser on
Measuring
Preset Length 1
Preset Length 2
2×Differential pair pulse outputs
(end-user configurable)
Electrical
Opto-isolated differential pair
Output voltage: 5V or user supplied (up to 24V)
Maximum frequency: 1MHz
Function
Independent
Quadrature pair
CANbus communications
Connects to an optional Proton Products CDi interface display unit
Serial communications
RS-232
Ethernet communications
Modbus protocol
Optional communications (factory-installed, choice of one, replaces standard Ethernet interface)
PROFIBUS
Ethernet/IP
DeviceNET
Model

SL mini 1220

SL mini 3060

Units

Part number
00050MC001
00050MC002
-
Stand-off distance
120
300
mm
4.72
11.8
inch
Depth-of-field
20
60
mm
0.79
2.36
inch
Minimum speed
0.1
0.25
m/min
0.33
0.82
ft/min
Maximum speed
2000
5000
m/min
6560
16400
ft/min