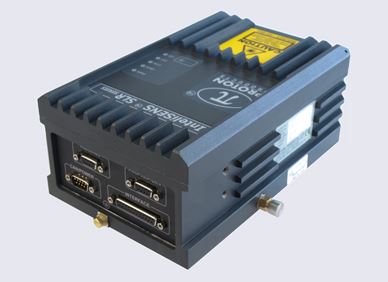 InteliSENS SLR PROTON Vietnam
Hãng sản xuất: Proton
Liên hệ tư vấn
InteliSENS SLR PROTON Vietnam, InteliSENS SLR PROTON , InteliSENS SLR PROTON Viet nam, InteliSENS® SLR PROTON Vietnam
PROTON , PROTON Vietnam , PROTON Viet nam
Features
Non-contact, high-speed, solid-state laser speed and length measurement with no slippage, drift or mechanical wear and greatly reduced maintenance compared with contact wheel / roller systems.
Bidirectional speed and length measurement; accurately measures speed and length during line stoppage, reversal and creepage.
UKAS-traceable calibration; accuracy better than 0.05% and repeatability better than 0.02%.
Rugged industrial design for use in harsh factory environments.
Available fitted with industry-standard communcations interfaces for easy integration with PLCs and production line equipment.
Excellent value with low cost of ownership.
Proton Products InteliSENS® SLR Series non-contact, bidirectional speed and length gauges provide extremely accurate speed and length measurements in almost any production environment.
Automatic direction detection and measurement down to zero speed means that the InteliSENS® SLR gauge length measurement counts both up and down, so final length measurements will still be accurate to 0.05% even with production lines that exhibit stoppage, direction reversal and creepage.
Production processes for wire, cable, web products, woven and non-woven materials, paper, plastic film, tapes, building materials, floorings and labelling can all be measured using the laser Doppler method.
Applications requiring a precise cut-to-length process benefit from the non-slip and highly accurate laser measurement technique which reduces scrap, increases uptime and improves material yield by eliminating product "Give Away" or "Short Length" claims.
InteliSENS® SLR Series gauges are money-saving, direct replacements for traditional problematic and high-maintenance contact wheel and roller-type devices and are extremely easy to install and operate. Integration with production line controllers such as PLCs is eased by the availability of a wide variety of industry standard communications interfaces.
Operating principle – Heterodyne laser surface velocimeter
Proton Products InteliSENS® Series speed and length gauges illuminate the measured surface with a precisely pitched interference pattern created by the intersection of two laser beams. The alternating bright and dark interference fringes modulate the light scattered by the object with a frequency proportional to the object speed. This scattered light is detected by a photodiode and the electrical signal digitally processed to determine the frequency and hence the speed. Object length is then calculated by integrating the speed measurement over time.
The InteliSENS® SLR series bidirectional speed and length gauges extend this principle by using a high-frequency Bragg cell modulator to illuminate the measured surface with a scanning interference pattern, which generates an oscillating light signal even when the object is stationary. Direction of motion is determined by whether the scattered light frequency is higher or lower than the stationary frequency.
Specification

Minimum

Typical

Maximum

Units

Accuracy*
0.05
%
Repeatability
0.02
%
Acceleration
500
m/s2
Internal measurement rate
100
kHz
Measurement output interval
40
?s
Laser spot size
3
mm
Operating temperature
5
45
°C
41
113
°F
Environmental protection
IP67
Weight
3
kg
6.6
lb
Length
230
mm
9.06
inch
Width
130
mm
5.12
inch
Height
75
mm
2.95
inch
Power supply
15
24
25
VDC
Power consumption
20
W
*only valid if the measured object is positioned within the central 20% of the depth-of-field.
Measurement units (end-user configurable)
Speed
metres/minute
feet/minute
Length
metres
feet
yards
Laser safety control inputs
Laser
An external closed SPST contact enables the laser diode.
Shutter
An external closed SPST contact opens the laser shutter.
2×Logic inputs (end-user configurable)
Electrical
Maximum input voltage: +24Vdc
Function
Length reset
Display hold
Length hold
Speed hold
Direction
Pause
3×Relay outputs (end-user configurable)
Electrical
Isolated, floating relay contacts
Maximum voltage: 50Vdc
Maximum current: 0.5A
Function
Gauge OK
Laser at temp
Shutter open
Laser on
Measuring
Preset Length 1
Preset Length 2
3×Pulse outputs (end-user configurable)
Electrical
Opto-isolated differential pairs
Output voltage: 5V or user supplied (up to 24V)
Maximum frequency: 250kHz
Function
Quadrature
Index
Analogue output (end-user configurable)
Electrical
Output voltage: 0 to +10V (end-user scalable)
Function
Speed
Good readings
CANbus communications
Connects to an optional Proton Products AiG2 interface display unit
Serial communications
RS-232
RS-422 / 485
Optional communications (factory-installed, choice of one)
PROFIBUS
Ethernet/IP
DeviceNET
Optional wireless communications (factory-installed, choice of one)
Bluetooth
Model

SLR1525

SLR3060

SLR6060

Units

Stand-off distance
150
300
600
mm
5.91
11.8
23.6
inch
Depth-of-field
25
60
60
mm
0.98
2.36
2.36
inch
Maximum speed (bidirectional)
2500
5000
5000
m/min
8200
16400
16400
ft/min